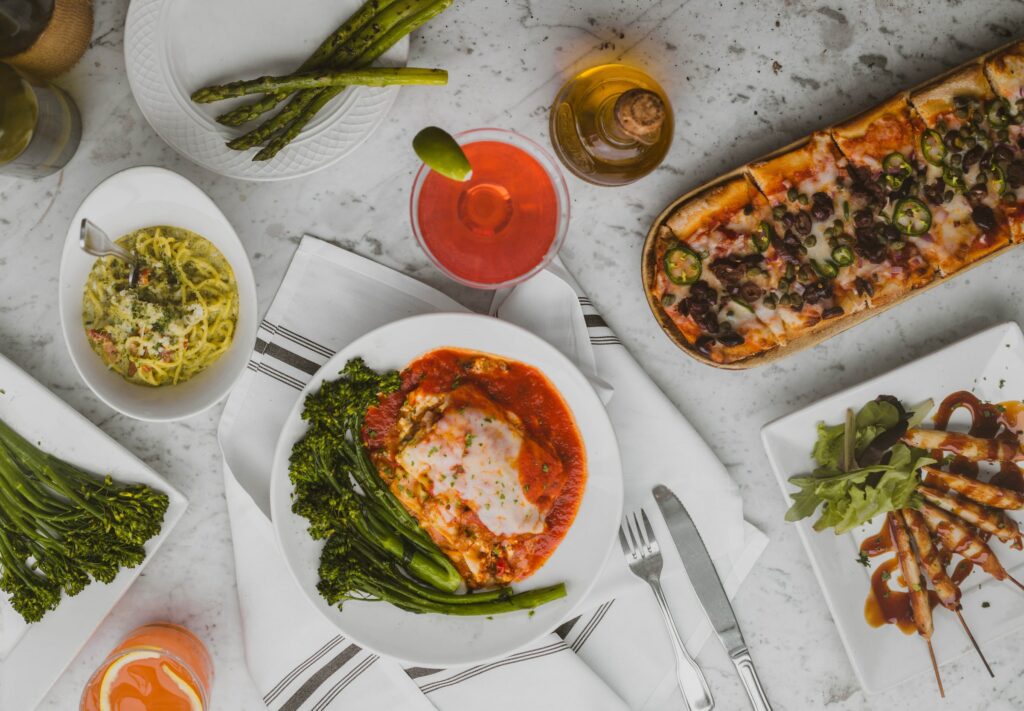 Where Do Locals Eat In Las Vegas?
Are you looking for a truly unique dining experience in Las Vegas? Then you're in the right place! From farm-to-table dishes to Michelin-starred French cuisine, locals know that Las Vegas has something for everyone.
But where do they go when it's time to eat? Read on and discover the best spots for delicious eats. You'll find:
Mexican fare at El Dorado Cantina
Farm-to-table dishes at Honey Salt
Tapas at Julian Serrano Tapas
American cuisine with a view from Top of The World
Late night bites from Tacos El Gordo
Thai dishes from Nittaya's Little Kitchen
With so many options available, it pays to be adventurous and explore all the culinary delights that Las Vegas has to offer!
Key Takeaways
Locals in Las Vegas often choose to eat at El Dorado Cantina, Honey Salt, Julian Serrano Tapas, and Hash House A Go Go.
Top of The World, located at the top of the Stratosphere, is a popular choice among locals for its New American cuisine and breathtaking views of the Las Vegas Strip.
Gordon Ramsay Hell's Kitchen, located in Caesars Palace, is another favorite among locals for its American cuisine inspired by the famous chef's reality show.
Esthers Kitchen, an Italian restaurant in the Las Vegas Arts District, is known for its warm atmosphere, great service, and delicious dishes such as burrata and spaghetti carbonara.
El Dorado Cantina
El Dorado Cantina is a popular Mexican restaurant in Las Vegas. It is known for its vibrant atmosphere and is open 24 hours a day. The restaurant is famous for its delicious tableside guacamole and Cadillac Margaritas. Locals often visit El Dorado Cantina to enjoy breakfast late at night or satisfy their craving for Mexican cuisine. The menu offers a wide range of options, including tacos, burritos, enchiladas, quesadillas, and other classic dishes. They also have vegan options available. Additionally, the restaurant has an impressive selection of tequila, with over 80 different types to choose from. The lively atmosphere makes it the perfect place to hang out with friends while enjoying a meal and drinks. Whether you're in the mood for brunch or dinner, El Dorado Cantina is a great choice for locals who want to experience authentic Mexican flavors without leaving Las Vegas. This local favorite is sure to provide an unforgettable dining experience that will make you come back time after time!
Honey Salt
Honey Salt, a rustic American farm-to-table restaurant, has locals flocking to its doors. Its tantalizing menu of monkey bread and crispy buttermilk fried chicken is enough to make your mouth water. The aroma alone is irresistible.
Ambiance is key at Honey Salt. Rustic tables and lush greenery adorn the dining room, creating a welcoming atmosphere.
Guests are invited to try the unique flavors of Andy's sage fried chicken and waffles or one of their signature flapjacks. For those who prefer something more sophisticated, an expansive wine list is available.
No matter what you order at Honey Salt, you're sure to be satisfied with the deliciousness that awaits!
Other must-try dishes include the BLT wedge salad, lobster bisque, and crispy skin half chicken. These dishes are served in an upscale atmosphere where guests can take in breathtaking views of the Las Vegas Strip from the top of The Stratosphere. With strict dress code requirements, this experience ensures an unforgettable night out on the town!
And let's not forget about their famous stone crab claws that are sure to delight any seafood lover. It's no wonder why so many locals love coming here for a meal.
From savory entrees to sweet treats like cereal milk soft serve and crack pie, there's no shortage of amazing restaurants in Las Vegas that offer something for everyone. But Honey Salt stands out as one not to miss!
Julian Serrano Tapas
Experience the gold-accented decor and Spanish-style tapas at Julian Serrano's. Here you can savor favorites like sangria, lamb chops, and chicken croquetas while enjoying an intimate atmosphere.
The menu features a wide variety of small plates that are designed to be shared with family and friends. The restaurant also has an extensive wine list, so you can find the perfect pairing for your meal.
With attentive service and delicious food, Julian Serrano's is sure to satisfy all your cravings. For those looking for a truly luxurious experience, there are tableside preparations available as well as private dining rooms where you can enjoy a more personalized service.
Whether it's lunch or dinner, Julian Serrano Tapas offers something special that will make your visit memorable. So come in and enjoy some of the best tapas Las Vegas has to offer – you won't be disappointed!
Take your taste buds on a flavorful journey and let Julian Serrano Tapas take care of everything else; just sit back and relax. From here, head next door to CATCH for some Japanese seafood delights!
CATCH
Head to CATCH for a stunning experience of Japanese seafood in an atmosphere with rustic tables and lush greenery. From truffle sashimi to lobster mac n cheese, there's something here for everyone. Get ready to be amazed by:
An extensive menu filled with delicacies from the sea
Expert sushi chefs crafting beautiful dishes
A chic bar serving up delicious cocktails
The artful presentation of each dish will delight your senses and take your taste buds on a journey of flavor. Whether you're looking for some light bites or indulging in something more substantial, you'll find it all at CATCH.
For an unforgettable evening out, this is the place to be! Plus, don't forget the perfect ending – one of their signature desserts like mochi ice cream or green tea tiramisu.
Transitioning seamlessly into the next topic – Hash House A Go Go – this spot offers big portions and unique flavors like Andy's sage fried chicken and waffles that make it a must-visit restaurant in Las Vegas.
Hash House A Go Go
For a unique and delicious meal, come to Hash House A Go Go and try their famous Andy's sage fried chicken and waffles! This American brunch spot is known for its big portions and creative flavors.
The restaurant has a rustic atmosphere with natural wood accents. The menu features classic breakfast dishes as well as unique creations like the Baked Potato Pancakes, Chicken Fried Steak Benedict, and Chilaquiles Verde.
Don't miss out on their signature dish, Hash House's Sage Fried Chicken & Waffles. It's served with house-made maple syrup topped with bacon crumbles. If you're looking for something lighter, order the Huevos Rancheros or Avocado Toast with smoked salmon.
They also have an extensive selection of craft beer, wine, spiked coffee drinks, mimosas and more to pair with your meal.
Whether you're in town for the weekend or just looking to satisfy your cravings for comfort food, Hash House A Go Go should be at the top of your list!
Frequently Asked Questions
What is the dress code for Top of The World?
Experience the luxurious ambiance of Top of The World and dress to impress! With its upscale dress code, you'll feel like royalty while enjoying exquisite New American cuisine. Make sure you look your best—it's the perfect setting for a special night out!
How much does the Ultimate Tasting Menu at Bazaar Meat By Jos Andrs cost?
The Ultimate Tasting Menu at Bazaar Meat by Jos Andrs is a luxurious experience that comes with a hefty price tag. Expect to pay around $150 per person for the multi-course meal.
What time does Tacos El Gordo close?
Tacos El Gordo, the Mexican eatery with multiple locations in Las Vegas, closes at 4am. Enjoy their popular carne asada fries and al pastor tacos late into the night!
What type of desserts does Sweets Raku serve?
Sweets Raku serves a variety of desserts, from classic treats like donuts to unique creations such as macarons and mousse. Try their signature desserts for an unforgettable experience!
Does Joe's Seafood, Prime Steak & Stone Crab have vegetarian options?
No, Joe's Seafood, Prime Steak & Stone Crab does not offer vegetarian options. It is an American seafood and steakhouse with a focus on succulent dishes like lobster tails and stone crab claws.
Conclusion
If you're looking for the best local eats in Las Vegas, look no further! From El Dorado Cantina's tableside guacamole to Hash House A Go Go's famous Andy's sage fried chicken and waffles, there's something for everyone.
And don't forget about the upscale experiences like Top of The World or L'Atelier de Joël Robuchon. Whether you want a quick bite or an unforgettable experience, Las Vegas has it all – just like life itself: a little something for everyone.
So come on down and see what wonderful surprises await.
What are the best restaurants in Las Vegas?
Click HERE to see!
free food and drinks guide!

A FREE LAS VEGAS FOOD AND DRINKS GUIDE!
On a mobile device, the guide could download in the background.
On a PC/Laptop/MAC, you will be redirected.
We respect your privacy. Unsubscribe at any time.